One October weekend we went to NYC.
Day 1:
West 86th Street around 8.30am. Walking down our street to find a café, get a caffine injection – the sun sparkling off the fire escapes will never leave me.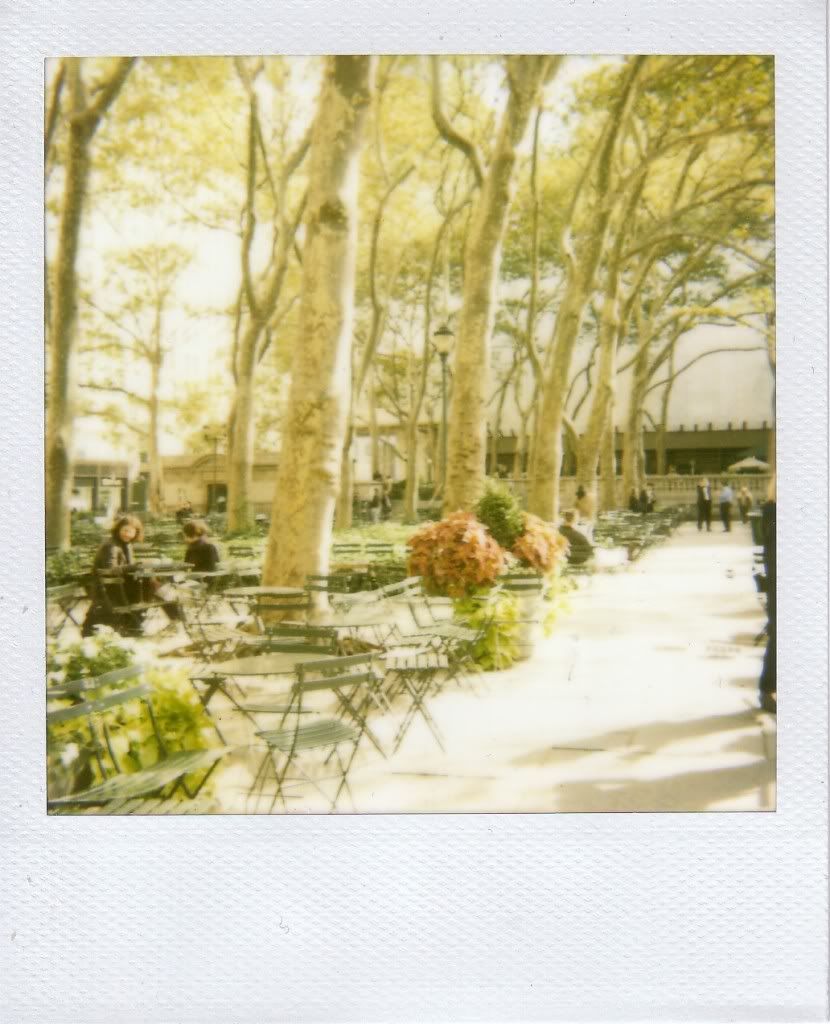 Emerging from the subway, looking for the lions outside the NYPL we stumbled on this beautiful park in the interior of the city.
Bryant Park.
Beautiful London Plain trees. Reminds me of riding Daphne's bike on our way to Plage de Palombaggia down the Eucalyptus lined streets.
"Reading room", chess tables, newspapers, people reading, discussing, socializing. It was a lovely day – warm, gentle breeze, roses lining the stone wall, birds swooping over head and the lull of the city seeping in at the edges.
Three people speaking French sat down at the table next to us and I did my best o slyly eaves drop and this is what I heard:
"c'était pas un mariage d'amour"
"il se connais très bien … le truc qui est drôle … c'est rigolo elle est toute belle… C'est un mariage bizarre." [ils viennent de France – le Français de France – c'est fait express par les mots truc et rigolo et le façon de utilise le mot 'quoi'.]
"Forcement."
"…des étiquettes quoi…"
"… mais il va pleuvoir…" [and it did]
And then an Anglophone sat down "funny meeting you here! I dream in the colour blue… actually I had a dream…" and the French ended and I stopped listening.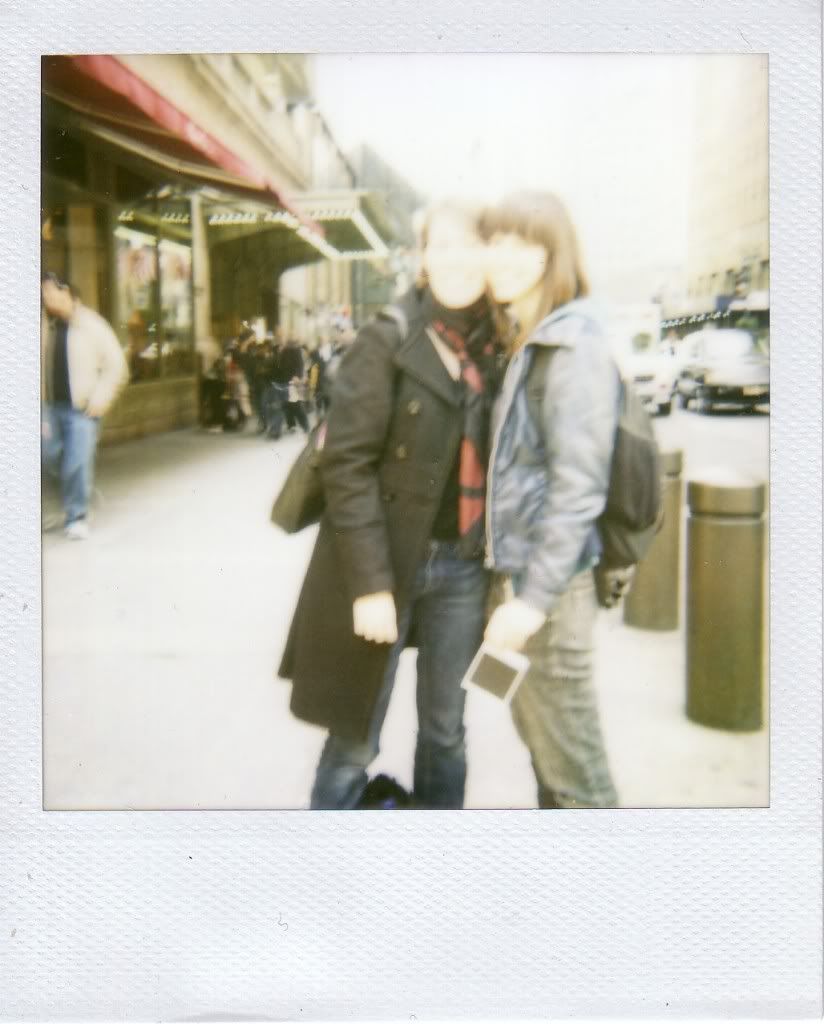 Rencontre avec Mlle Katie Wolfe. Vélo squad member circa l'été 2007. Outside Grand Central station and I nearly wept.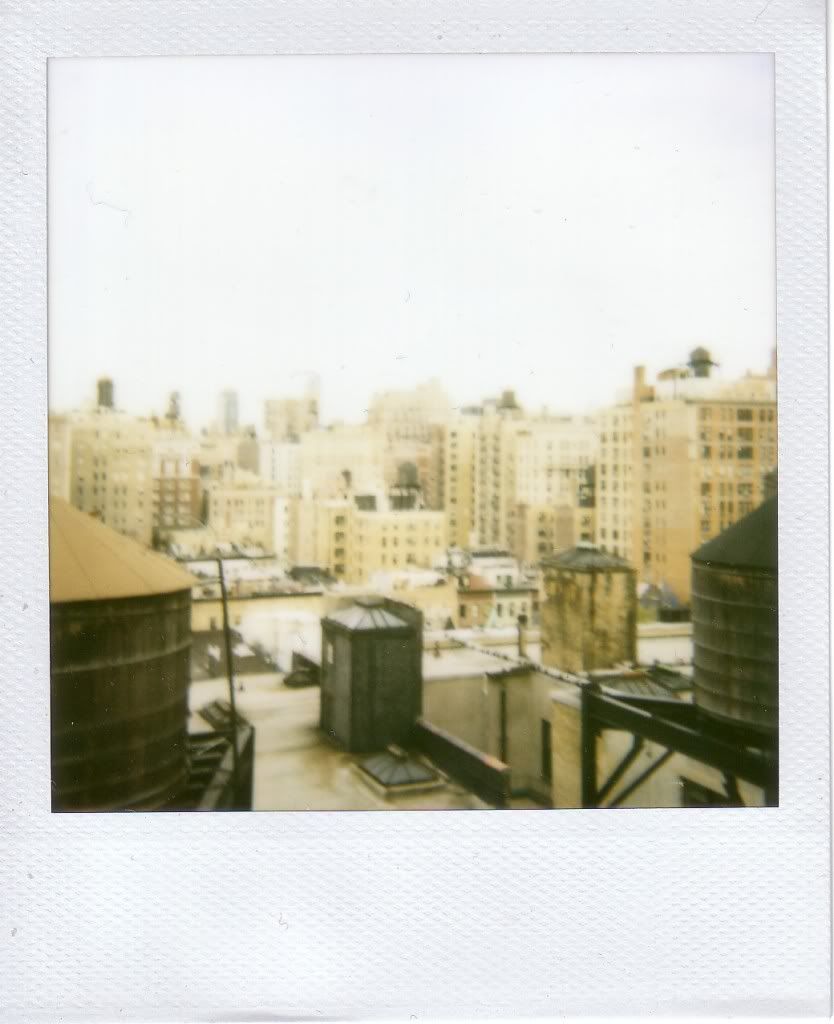 view from our hotel room at the Dexter House Hotel on West 86th Street.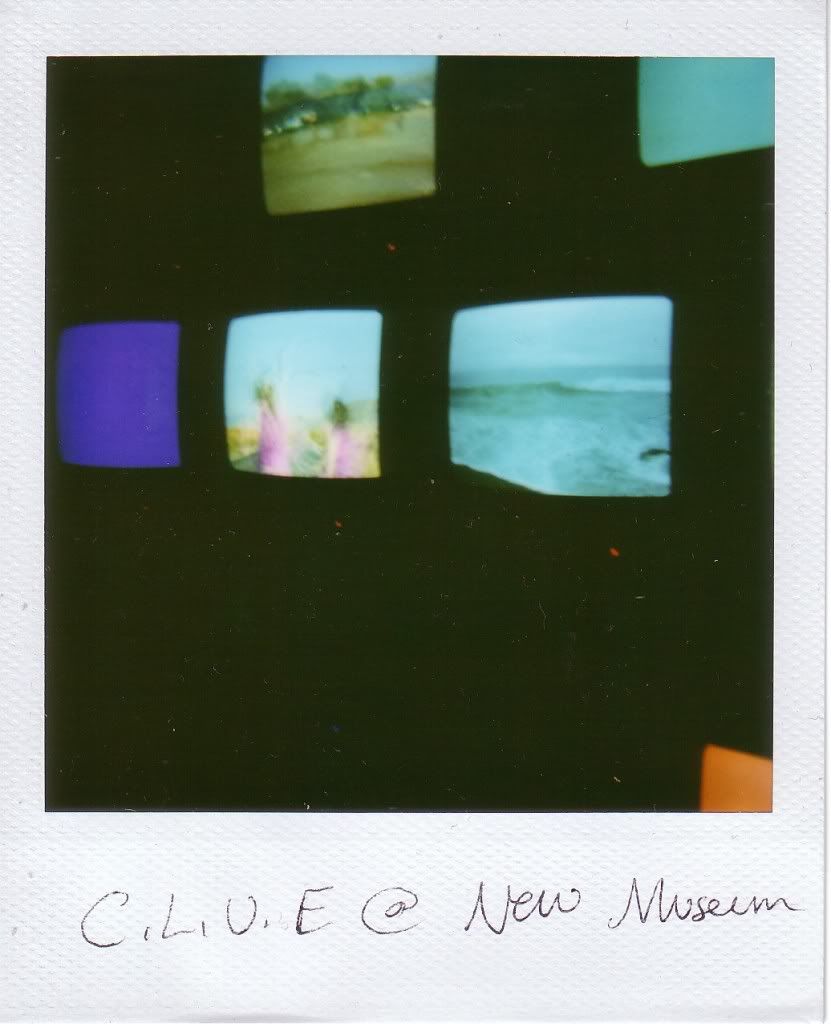 C.L.U.E
at the New Museum of Contemporary Art in the Bowery. Only good/interesting piece of work.
Day 3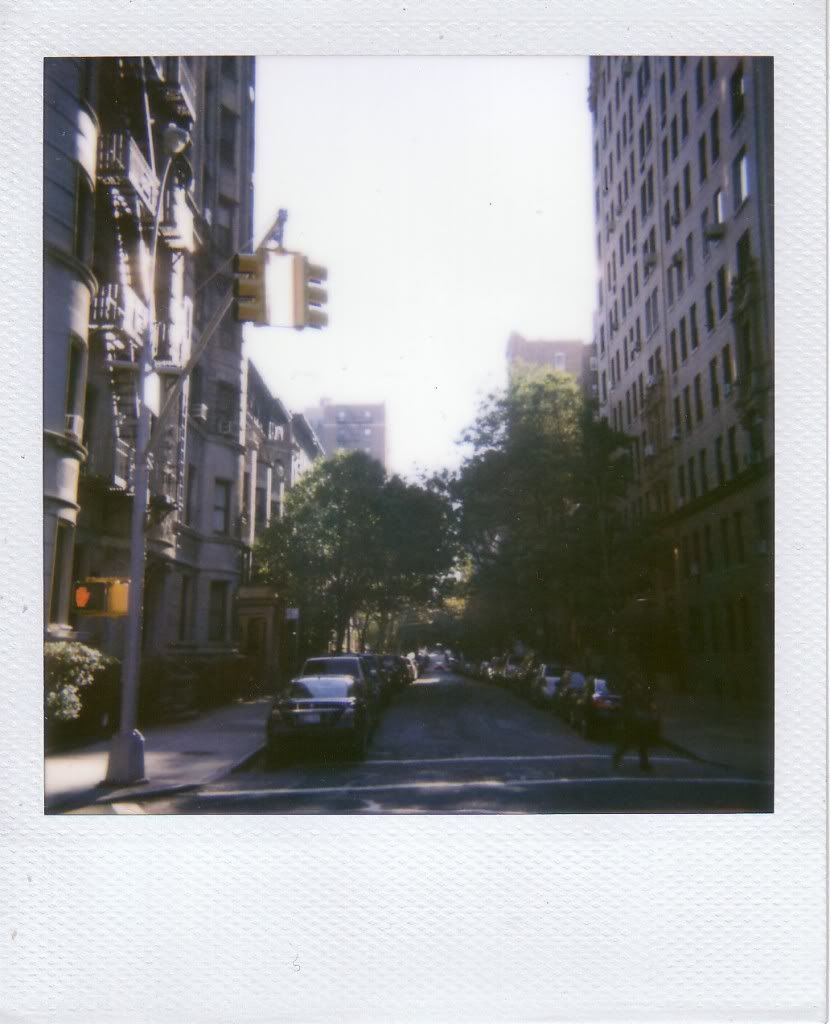 The junction of West 84th street and Riverside Dr.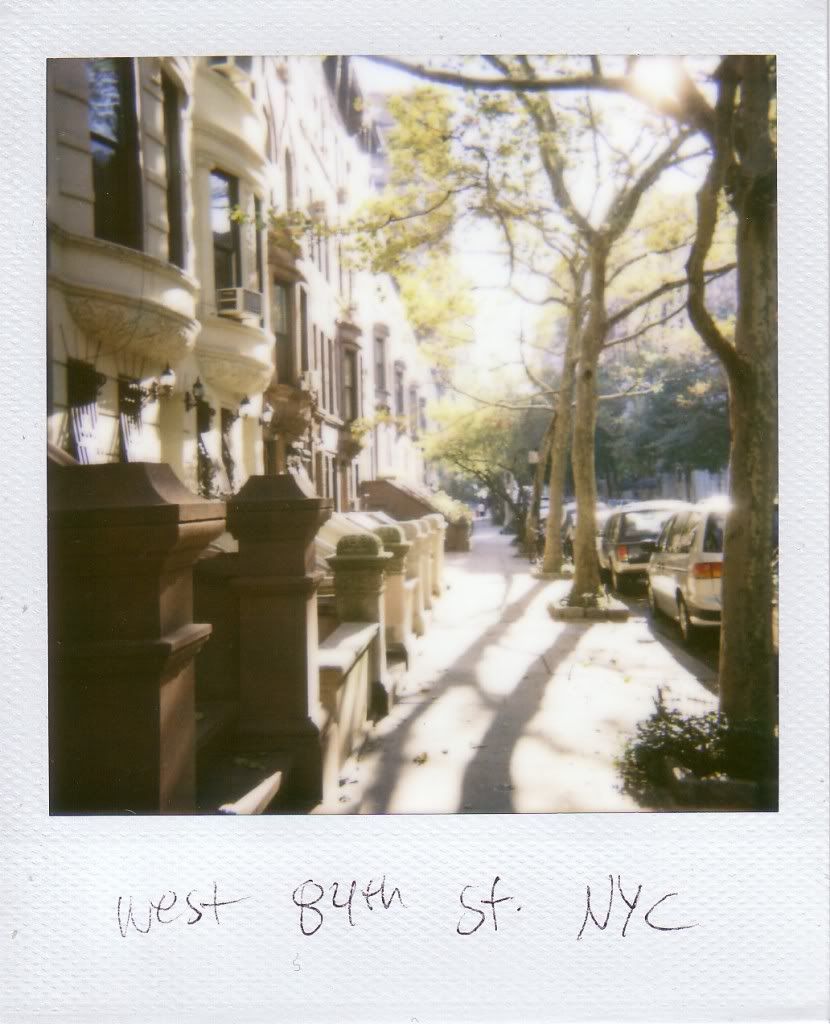 Quintessential NYC. We stepped into Breakfast at Tiffany's.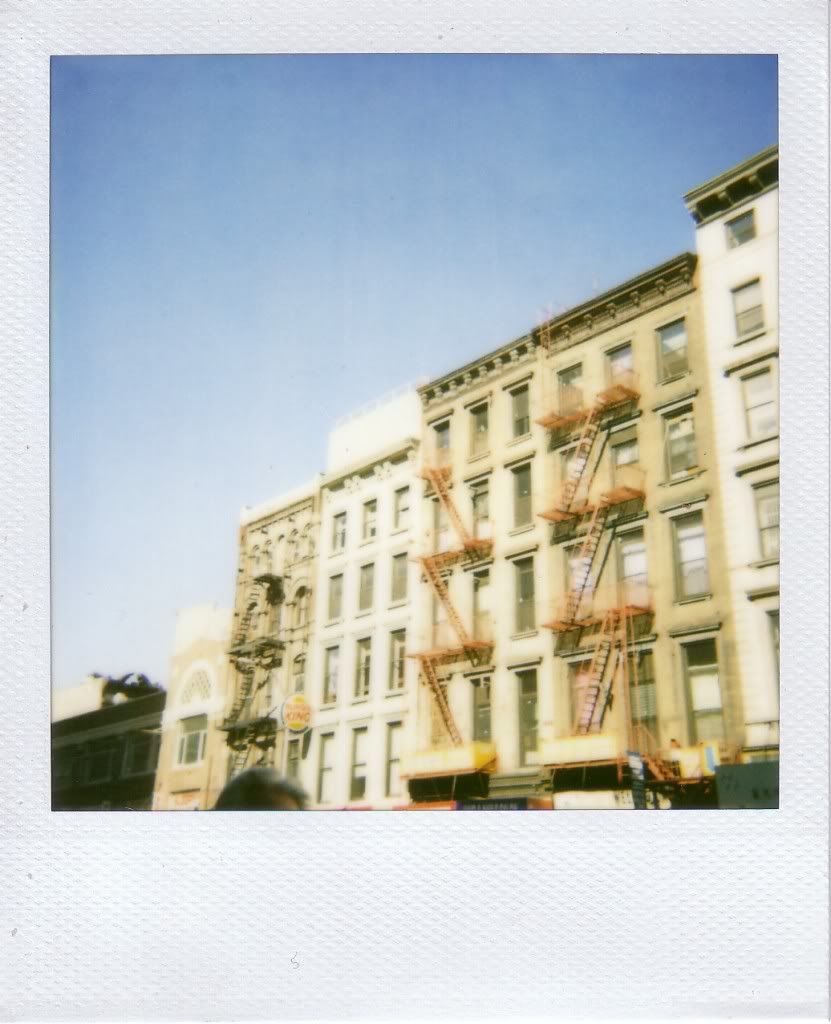 Fire escapes on Canal St, Chinatown.
Interesting signage in Soho as seen from our taxi on our way to see Gypsy on Broadway.
Polaroid misfire.
But I love the ghostly buildings and the little people emerging at the bottom.
Time Square on our last night – the lights a-blazing.
Navy recruitment centre style/presentation Falvin-esque. Giant flouescent tube light American Flag in the middle of Time Sq. Speaks to that certain era of minimalist art.
Thus spake the She.
p.s. click
here
and
here
to see two albums of photos from this trip with lots of stories and adventures.