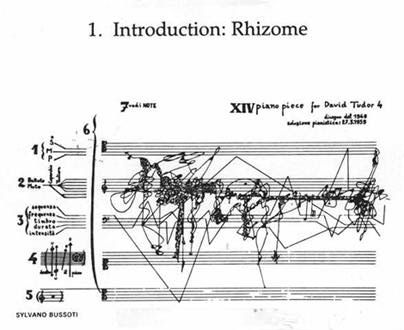 Today, we are going to embrace the "Rhizome" care of Deleuze and Guattari a couple of French/Italian God's I've loved from a far in my bedroom cozy corner for some time now.
Many moons ago I had a wonderful class in university called "Psychoanalysis and approaches to literature". In this class we read much but my favourite moment was when we read the introduction to Deleuze and Guattari's book
A Thousand Plateaus
which deals with the rhizome. We read it in the context of
"Mauve Desert"
by
Professeure St-Gelais said at one point that the modernist movement could be equated to "Masculinity" which is symbolically (and not...) the norme, the grid, stability etc. (Modernism also had a "father" - Clement Greenberg, which also lends easily to equating Modernism with the masculine, with such a strong male figure leading the way). Post modernism on the other hand can be more easily equated with femininity, which is not the norm, has always be outside the norm. Femininity is more fluid, harder to pin point, less stable, more open.
How does this relate to the rhizome? The rhizome is just that, fluid, open... the rhizome is a way of access the world from diverse directions, not just one entry point, not just one way of understanding, not like the norm.
Voilà. I love educaton, even though I'm crevée en batem.