After posting about happiness (below) I started to whittle away at the 157 e-flux emails in my inbox, that I've been neglecting for, oh, two months. Yikes. Well I got it down to 41 and stumbled across this exhibition:
Glück... happens
, featuring some pretty amazing artists such as Mona Hatoum and Runa Islam. The gallery, Kunstpalais in Erlagen, Germany, has just undergone two years of renovations and is open for the first time again.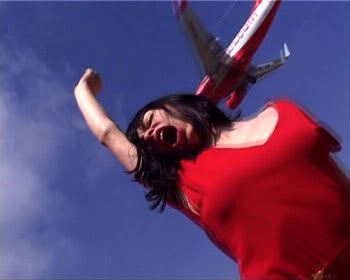 (Alejandro Vidal, One second burns for a billion years (still), 2007, video projection
Image courtesy of e-flux.)
And the premise of this exhibition you ask? Happiness. How coincidental. According to the press release, happiness is not the kind of subject matter that generally turns up in art oeuvres. The 15 artists in the show, 10 of which made new pieces expressly for this exhibition, exhibited work that regarded the perception of happiness. We so desperately seek happiness that often we just lead ourselves to unhappiness. The works in this exhibition state hard questions as well as easy answers.
Check out the
Kunstpalais
and also the interesing work of
Runa Islam,
one of my tutors from my time in Leeds! She also has a show currently at the Musée d'art Contemporaine de Montréal (see side bar for website).